Mt Union Association of General Baptists

History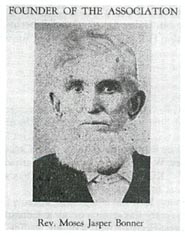 The Mt. Union Association and
Rev. Moses Jasper Bonner

The Mt. Union Association is one of the oldest Associations in our denomination that is still active today. The Association is very proud of its past and is confident of its future because of its foundation laid over 125 years ago. The information provided in the following history was obtained in part from "The History of Mt. Union Association".

Rev. Moses Jasper Bonner is known as "The Founder of The Mt. Union Association." Rev. Bonner was born in Allen County, Kentucky on December 17, 1825. When Rev. Bonner was a very young man, he moved with his parents to Missouri. While in Missouri, he was converted and joined the Missionary Baptist Church. He realized that he disagreed with their doctrine and joined the Methodist Church. He started his ministry in the year of 1851 at the age of 26.
Rev. Bonner was married to Nancy Malony from Hopkinsville, Kentucky. He was the father of nine children. He moved his family into the western part of Kentucky and became acquainted with the General Baptists in this area. He found he agreed with their doctrine and joined a General Baptist Church in The Cumberland Association of Kentucky. He was ordained by this body and was a prominent minister in this Association.
Moving back to Allen County, Kentucky in the fall of 1863, Rev. Bonner became the first General Baptist minister to enter this area. He began his preaching ministry in a one-room log schoolhouse called Mulberry near Halfway, Kentucky. The revivals held in the schoolhouse were so successful, they decided to organize a church. On February 8, 1864, Rev. D.G. Crane and Rev. Bonner organized a church called Mulberry Hill in the Mulberry schoolhouse. The church was organized with thirteen charter members (Rev. Bonner and his wife were among the charter members). Rev. Bonner was also elected the church's first pastor. A few months later Rev. Bonner organized Liberty Church located a few miles from Mulberry Hill.
The General Baptists in this area came to be known as "Bonner Baptists" during its early years.
In 1866, Rev. Bonner brought delegates from Mulberry Hill and Liberty Churches to The Union of Kentucky Association to join their Association. At this session of the Association, Rev. Bonner and the delegates were privileged to hear Rev. Benoni Stinson preach the gospel.
A fire destroyed the Mulberry Hill Church and school in 1869. In 1870, Mulberry Hill moved into a new church and became known as Mt. Union Church. Rev. Bonner was the only pastor of Mulberry Hill and first pastor of Mt. Union.
In 1876, churches in Southern Kentucky were granted permission to organize its own Association. Rev. Isaac H. Henry and Rev. M. B. Covington of The Union Association organized Mt. Union Association at New Harmony Church in Todd County, Kentucky, on December 9, 1876. Eight churches were lettered off from Union Association. These churches were Mt. Union, Liberty, Macedonia, Mud River Union, New Harmony, Indian Camp Union, Union, and Walnut Grove with a total membership of 625. Rev. Majer Younger Hyder Holland was the first moderator and Bro. J. A. Justice, Clerk. The Presbytery was also organized at the same time with Rev. W. L. (Billy) Harris as Moderator and Rev. Bird Weaver, Clerk. Rev. Isaac H. Henry, co-organizer, also was moderator of the second and third sessions of The General Association.
Rev. Bonner organized Mulberry Hill (Mt. Union), Liberty (Old Liberty), Macedonia, and Clifton Churches. He was also one of the first pastors of Eulia Church. Eulia Church was the first General Baptist Church organized in Tennessee, the church is still very active and is located in Macon County.
Moving his membership from Mt. Union Church, Rev. Bonner joined Pleasant Grove Church, also in The Mt. Union Association, and was a member there at the time of his death. Rev. Bonner passed away November 21, 1907 at the age of 82. His funeral was held at Mt. Union Church and his remains were laid to rest in the church cemetery.
Rev. Bonner is credited to have been the founder of The Mt. Union Association, Green River Union Association, and New Harmony Association.
Today, because of great men like Rev. Bonner, The Mt. Union Association has thrived through the years and has churches in Kentucky, Tennessee, and Indiana. Also, the Association grew so large in 1921 it lettered off 12 churches to form The Portland Association. The Mt. Union Association is the "Mother Association" of The Portland Association and United of Tennessee and Kentucky Association.